Contemporary   NZ    Artworks   by   
Monika   Welch  ........ Northland   NZ   Artist
To see new works as I paint them,....please join my art-page on Facebook!
                                                    "My Love is a Bird" by Monika Welch (SOLD)

                                                  "Nocturne" - By Monika Welch (SOLD)
"The Miracle" By Monika Welch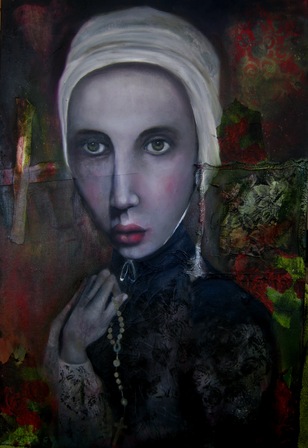 Kia Ora to all who land at the MONIKA WELCH art website.  Welcome!

MONIKA WELCH is a quirky contemporary NZ artist interested in colourful woman figures, surrealism, imaginative stories, and ALL things ZANY! She even likes a bit of 'strange' and disturbing!!

This is my PASSION-PAGE, a celebration to the art and my addiction to it.
It makes my body ache, takes up so much time,
causes me to make a HUGE mess and yet ....
I adore it!!
It fills my heart and my spirit and there is no one but ME to contend with!
(And sometimes thats not easy either LOL!!!)

I am self-taught but inspired by those who have gone before me
but moreso, those who still live and breathe the art.

I am especially interested in carrying on the artistic cause.
It helps women to heal, to relax, to escape from bizzy mother-filled lives.
It can show us who and what we are....who we want to be.
To inspire others to take up their choice of art/craft
is almost fundamental to my own development.
Therefore, during the week I  am also a teacher. My main point is to introduce creativity through PLAY and exploring alternate ideas. I teach adult women, and kids or teens doing their NCEA exams.
I am also available for ART- QUIRK WORKSHOPS,(mixed media and collage) so please email me if you want to find out about these.
I can come to YOUR town. 


I am also a singer/songwriter,writer and mother of 5 l'il darlin's..... (some bigger than the others)
AND, not to be forgotten....
...... wee wiffy of one hunk of burnin' love!
I also love to dance and paddle in an outrigger canoe. In NZ we call it Waka ama.
I love weird toys and dolls, chicken (cooked in any fashion), pinot noir.............
and interesting and odd clothing and fabrics.
_________________________________________________________________
"When Lily-bee gave you some Flowers"  by Monika Welch (SOLD)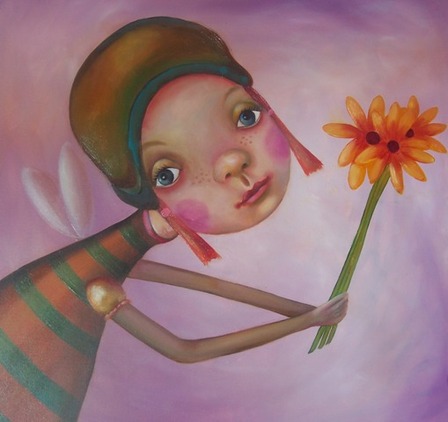 _______________________________________________________________
MONIKA WELCH PRINTS- $15
You can purchase prints of just about anything you want on this website. They are $15 each and are printed on A4 canvas.
These make great gifts and treats, for yourself or someone special. They are hand-signed and look just like little mini paintings!!! All you have to do is frame them YOURSELF!!
So have a look through the contemporary art galleries and see what you like! Pick a picture and then send me an email. I'll let you know what to do next!
(I can also do , part of a painting if you like ........just one area of a particular painting.)
______________________________________________________________
     Monika Welch commissions......................
If you want to commission my work please see 'contact Monika' page for details.
Have a look around the rest of this web-site and see what you think. I send out a newsletter every two months (or 5 years) with new work! If you would like to be first in line to see these new pieces , please email me.....don't miss out!!
 
I'd love to hear from YOU!!!
monsart@xtra.co.nz

MONIKA  WELCH
_____________________________________________________________
BEST QUALITY.............BEST SERVICE

I can guarantee that the utmost care and respect will be taken in the process of your chosen work..... AND this includes excellent packaging and courier service.(HUBBY IS A PACKING-PSYHCO!) Payment is in NZ dollars. Postage and insurance if required to be paid by purchaser.

All copyright is owned by Monika Welch!