ART CLASSES and Testimonials
For all inquiries about art classes,workshops, private art therapy and prices, please email me at: monsart@ihug.co.nz
Lady's Art-Quirk classes
I have been teaching lady's art classes for 3 years. My current 'lovelies' have been coming for some time now and we have become good friends and art buddies. They arrive each Friday at 9.30am till 2.30pm and we draw, paint, stick , paste and PLAY all the day long. We also boogie. Yes , I have also become quite the DJ......and it has been a definite hit with the ladies and puts us all in the mood for a great days work and ensuing results. Oh.....and did I mention the food? We have a scrumptious morning tea and shared lunch like no other. These ladies can cook!!
All-in–all, these Fridays are a very special day for all, and I myself have learnt much! Long may it reign!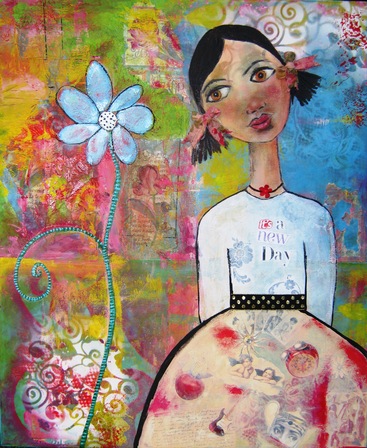 Teen classes
I started teaching teens in 2010. The students came to me to help them achieve higher grades for their NCEA levels 1, 2 and 3 as well as Cambridge levels. It is quite hard work as even though levels can be similar, the students have teachers who have different expectations and standards. It is important therefore for me to get a feel of individual expectations and follow a steady path to achive a high standard and result. I only tutor 4 teens at a time as towards the end of year the work becomes quite intensive and lessons are more frequent. The lessons are somewhat expensive, but I certainly have my work cut out for me, and I am proud to say the results at the end of this year were fantastic.
Two of my year 13 girls got into Whitecliffe college of Arts and Design in Auckland for 2012. One will be doing a fine arts degree, and one is doing a fashion degree. My year 12 student passed also with excellence and has got in CINZ, the local culinary institute for 2012. Another year 11 student did extremely well too and is going on to a private school in Auckland. My 5th student started this year and he is going back to school to finish his last 2 years. He is an amazing young artist who challenges me always with his content and imagination.
I wasn't sure how it would go teaching teens but in all honesty it has been amazing. Its great to be able to listen to their 'stuff' and learn a little about their woes and worries , celebrations and high-lights. What an incredible opportunity and might I be the first person to put up my hand and say that I LOVE working with teens. They are exhilarating and refreshing to say the least.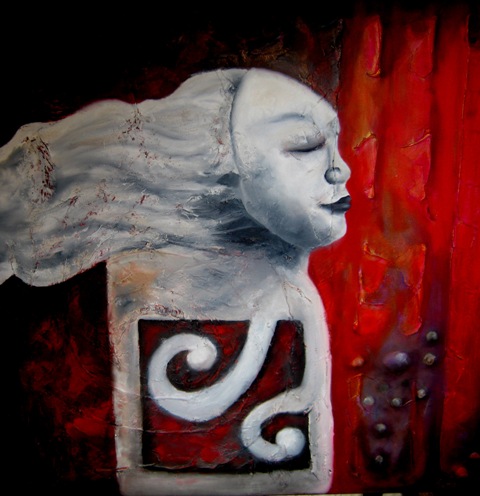 TWEENY CLASSES (NEW)!!
I will be beginning art classes for tweenies in 2012. These will be for children aged 9-14 who wish to express themselves in a safe environment and already show a talent and drive for visual arts.This will be an afterschool programme.

ART THERAPY
I have also started art therapy with a few younger children. I have no training with this but it seems to be working well.....in as far as I have my own version of art therapy.This is where the children get to express their feelings verbally and,............... through art and creativity. These are private tuition sessions and so far it is working out very well. The children have some issues going on in their lives and need to express their feelings in a safe and fun environment. We have a lot of fun and banter. It is great to be a listening ear and to offer advice with any held fears and worries.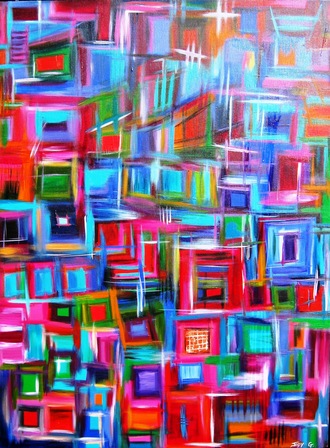 ART WORK-SHOPS
My studio is available for "Art-quirk' workshops and my first workshop will be on January 14th and 15th . Classes run from 9.30am -3pm for two days. Cost is $300 for the weekend which includes all art supplies and a finished canvas work to take home. You will have to find your own accomodation and food, but I will provide morning and afternoon tea.........lots of groovy music, peppered with lots of laughs and stories!
I will need at least 5 people to sign up, so first in first served. Email me for further details
PS: I am available for ANY overseas workshops required. To anywhere.........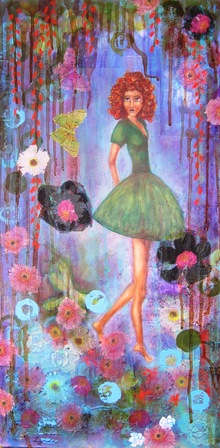 TESTIMONIALS
These are the following testimonials from some of my students...the ladies, the teens, and their mums too: They are very humbling and a great indication that I am following the right path and somehow making a difference. Thank you to all who supplied their thoughts.....you really are an awesome bunch of people:
_____________________________________________________________________________________________________________________
Monika is an incredible lady, her talents are very diverse, not only is she an amazing artist but her command of the english language is unbelievable, And of course she is an outstanding Musician.
Oh to be so talented!!!!
My daughter did art classes with Monika for 2 years, the progress that she made was phenomenal, She gained excellence in all subjects and was awarded Top Scholar. Monika really brought out her creativity and confidence. I know my daughter just loved going to see Monika who became a very good friend and someone that she could trust and confide in. Monika would patiently listen and Council in so many ways. Monica is the kindest , loveliest person you could meet. So if you are looking not only for a very talented Art Tutor but a friend as well Monika is your lady.

George Hewitt
I had the pleasure of being able to complete art classes with Monika this year. Mon is one of the most caring, kindest and friendliest people that I have ever met, who took me under her wing and taught me a few life lessons. Her painting and drawing skills are amazing, and just being able to watch her bring a drawing to life is breath-taking. Monika was always there when I needed her, and was always supportive of me. She took charge in a crisis, and helped me realise what I am actually capable of. I will be forever grateful to Monika.
T.W.
I had the pleasure of taking art classes from Mon in 2010....what a wonderful time! Good music, good company , lots of laughs and Mon's encouragement, sage advice and direction all helped me overcome my fears of never having painted before and unlock the imagination. Knowing you had that window of 'my time' on a Friday put a bright spin on every week!
Selling the first 3 pieces I did in Mon's class and having one of those paintings accepted for the BDO Spicer Exhibition was very affirming of the benefits gained by attending Mon's class.
I would recommend to all...
MB
With Mon introducing me to her love for art, the crazinessness, the flare,
the colour, the excitment, the freedom, I feel I've found a
new best friend. Thank you Mon
LS
I started lessons with Monika half way through 2011 to help with my
Cambridge art syllabus. Monika was supportive, encouraging and always made
the lessons fun. I went from being concerned I may not complete my required
portfolio to completing it to a standard I felt excelled my initial
expectations. My confidence grew exponentially and I now feel better
prepared for art next year. Not only did Monika help with the actual
painting she also guided me through the initial planning stages and showed
me that no (artistic) mistake is too big to fix!
JD
Wanted to paint,
But did not have the heart.
So i asked Mon,If she could teach me art.
Went along to her class,
Boy what a blast.
A little nervous a first,
But soon quenched the thirst.
Oh what fun to stick, paint and spray,
All the while, Mon play`s the DJ.
Now i am hooked,
That`s all i can say.
Can`t wait till Friday`s,
When i get to play.
LM
I havent created a thing since high school, then met Monika In her gallery. The rest is history! I can paint, play, think of ideas, laugh at myself and not get too worried when it doesnt go quite right. Its the funnest most cool thing Ive done in a long time and I feel so happy that I am there. Monika is a really good listener too and makes time to talk to you about things that might not be right in your life. She uses creativity to help you to work out solutions. I am so greatful to be there.
A . L
What a wonderful class we have each week. I have been working under the advice of Monika for a year now. When I first came to our group I had dabbled over the years with paints but not had the time to really concentrate on the application of paint. I have taken to acrylics finishing with oils. My work is layered art to achieve a life like finish were possible. I am now able to be confident enough to sell my work. My favourite subject is of black African woman. We have lots of fun and art therapy for the mind is very healing.Thanks Mon for a great year and many laughs…..
Jenny Tutton (Jenna on my art work )
Dear Mon,
Thank you !!!!! You are a real gem. Jade started doing art classes with you in the beginning of the year just for the Love of Art and for us as parents to engage her in a positive extramural activity. It has been amazing to watch her grow and develop new skills over the year. Jade has loved been part of your home and has found painting with you and the other students encouraging and most of all FUN. Mon you have a remarkable talent connecting with your students and instilling confidence in them. Jade went into her Art Painting exam with confidence - not stressed in the least and passed with excellence. Mon you are so much more than just an art teacher – you are Super Special. Thank you. DG
Monika is a vibrant, fun and caring person who has helped my daughter excel
in art this year. Under Monika's care and tuition I have seen my daughter's
confidence grow not only in art but in life in general. Monika is a fabulous
teacher and relates exceptionally well to teenagers. I have no hesitation in
recommending her to anyone considering art lessons.
KD
I attended one of Monika's 10 week Art classes last year. I am still in shock at the painting I created it is amazing and with Monika's guidance some thing I am very proud of. I learnt so much and to be honest I did not think I was capable of coming away with such a great piece of art. Thanks Mon! We had some good laughs and I really enjoyed going to class.
Pam Finlay
What a delightful and life-changing surprise to discover my creativity. Before signing on for Mon's class, I had only painted walls. Plain walls. Eggshell. Mon's magical talents and sense of humor soon changed that. I've learned so much, and more importantly, have had great fun. Laughter, creativity, the company of good people and occasional chocolate. What could be better? Sign up for a class or lesson. It will be fantastic! Maggie Brown; Counsellor and Therapist
Hi all
How my art classes started - I had been admiring this ladies art in a few local café's/restaurants in Kerikeri for some time. Then after visiting a friend who was going to art classes on Fridays I put two and two together. The art I had been admiring and my friends art teacher were the same person. Could not believe my luck when I phoned Monika to see if I could join her Friday art class.
I have been going for over a term now and soooooooooooo look forward to my Fridays. It is such a fun, social, relaxing and not to mention creative time. Monika is such a clever lady and always manages to guide us through our creations. Highly recommend these classes!!!
By Tanya McGregor
"Arts Journey"
Monika, a truly gifted artist with one of the biggest hearts I know.
She has such a passion for Art, and a passion for people, and with these two 'loves', she openly shares her talents. She delights in seeing her students, grow and develop in their own artistic gift, but also grow and develop within themselves, as a person, pushing through their fears, giving encouragement and imparting confidence all the way.
To have the courage and the freedom to express oneself throught Art, with the security of knowing Monika is right there steering the way, giving encouragement, is just so awesome! Thanks Monika - you rock!
Amanda
I recently joined Monika's art class on a Friday and already i feel at home. I have been on a journey to better my artFor a couple of years, but had started to feel stifled by my need for absolute perfection and a fear of making mistakes. I wanted to free myself of that fear, loosen up and enjoy art again. I knew Monika would be just the person to help me achieve that goal as i have long admired he work and just love the way she is able to capture a feeling in a painting. Her love and enjoyment of what she does. clearly shows in her work(both painting and teaching) and through her art classes I am starting to release my fear and feel enjoyment in the creative process again.
For me the artclasses have also been of great help to rid myself of the last traces of a long period of depression and darkness. Its about connecting with like-minded supportive and loving people and having their help to create soemthing beautiful, and to further create a better happy life, and ART, worthy of showing the world.
G. B

Tired on a Thursday after work? I suddenly realise YES .....tomorrow is Fun Friday. Art with Mon!!! Does that thought put a bounce in my step? It sure does! I LOVE it!!!!
Monika makes Fridays fun and faulous. i return home buzzing with enthusiam after spending the day learning so much......and laughing, dancing , singing and creating. Mon has opened a door i didnt know i had. She has such knowledge in many art techniques and encourages us to try unexplored avenues and takes us out of our comfort zones.....and we are more than happy to do it!
Monika has an amazing knowledge and imagination, is always positive, is a wonderful art teacher and is a very talented woman. i feel priveleged to work with her.
Kathy Clark
We employ specialists from the community to come and work with our children. Monika specnt a term with us sharing her art techniques, her uniqueness, colour, humour, story-telling, visual loveliness, joy, warmth and empathy. She bought baskets of beauty, (jewellery) paintings, and prints, and every week gave her prints to the children. She has enjoyed 'famous person' status with those children who were lucky enough to spend time with her. Thankyou Monika for sharing all of your wonderfully generous attributes with us. Arohanui Cheryl Kingi, Head Teacher Kerkeri Kindergarten

To Whom it May Concern,
My teenage hopes of attending Art School and forging an artistic career were thwarted by my parents and career advisors with more conventional ideals of sensibility. As much as I value and appreciate the life skills and humanitarianism related to a profession in Nursing, and the subsequent nurturing role of marriage and motherhood combining so thoroughly with school and community obligations and endeavours, my heart has quietly longed for an unencumbered period of time to truly indulge my amateur passion for art.
Timing of course is everything, and now my three children are leading their own lives, and while the chill of winter allowed me a period of semi hibernation, for the first time in my life I have had the true joy of indulging my creativity under the guidance and encouragement of Monika Welch, an artist I have admired for some time.
I consider my Fridays for the last few months spent within a group of freely expressive, talented and wonderful women, a privilege and a joy. I have experimented with mixed media, tested my courage to exceed my own expectation, sighed with frustration, rejoiced with success, and attempted to find the patience to appreciate my own personal growth.
I have always wanted to be in some shape or form associated with an art gallery and knowing the exultation of exhibiting my work; and I have had this opportunity by being embraced within the Hot Ginger Gallery group of artists under Monika's leadership. Again, I feel privileged to have realized this dream.
I wholeheartedly support Monika's ambition to bring her own personal style, flavours, wit, generosity of spirit, enthusiasm and talent to the global arena through video tutorials in the forum of mixed media art. Her sparkly personality will without doubt, supersede any physical barriers associated with film making and interaction with her audience. Monika Welch can bring all that I have enjoyed to the lives of countless other's
Yours in expectation and with sincerity,
Susi Liddington
Our daughter, aged 14, started art classes with Monika 2 terms ago. She was reluctant as had her own style but we encouraged her & now she adores her Thursday afternoons with Mon & the other 3-4 artistes!
In her own words, our girl finds really supportive, steering & guiding without forcing you to go in any direction. Mon never does your work for you (unlike other art teachers she has experienced!).
Mon helps you to develop your own style & lets you be influenced by your own ideas and choices, not her own. Mon is always looking out side the square and suggesting other things/objects/materials you may be interested in to broaden your style.
Monika does more than she needs to for the girls & (bonus!) the girls get to use some of her.materials, swanky brushes paints & ... gold leaf!!
Thanks Monika for being such an important part of our daughters creativity & fun
Romany Beaumont
I have dabbled with art lessons for the past couple of years and was still struggling with what style grabbed me. That is until I happened upon Monika's wonderful website! I had a 'light-bulb' moment when I saw her awesome paintings and felt like I had 'found myself'. Consequently I haunted Monika for months to hold a workshop and I finally had the pleasure of attending one last weekend with a friend. What a mind-blowing time we had – fantastic tutor, wonderful company, inspiring music and delicious food – what more could I ask for. Thanks Monika for unleashing my creative juices in your awesome treasure trove of a studio and sharing your wonderful tips and tricks which led to me creating a piece of artwork I adore!
Cheers
Jacqui Read
A girlfriend of mine encouraged me to attend one of Monika's classes. I hadnt done any art since I was back in High School and thought, why not! Well I can tell you, I was blown away by her talent and what an amazing artist she is. Such a brilliant teacher and a dam great cook too. I have come away buzzing from this experience and have been off to get art supplies already. Thankyou so much for a wonderful weekend. I'll be back
Thanks again for a very productive and interesting weekend Monika. Your encouragement and limitless resources would inspire anyone. Lunches were just super too and sustained my creative urge. It was really interesting to see that all 5 of us in the class produced such a variety of paintings and I came away with a mixed media creative itch, well scratched. The Saturday night restaurant which you organised for us was a credit to Keri Keri and also I must give a resounding testimonial to the couple you arranged to give us bed and breakfast. I cannot recommend them highly enough for their hospitality. Personally the whole weekend was a resounding success.
Cheers

Nancy
Hi, just to let you all know what a wonderful time is to be had at one of Monika's workshops. I really enjoyed my weekend, we had a wonderful group of classmates, (we all went out for dinner together and had a wonderful discussion and meal) and we had wonderful homestay with our allocated hostess and host their hospitality was awesome, so friendly, we also met the other hostess and host as well, just wonderful people. In fact I have booked in with the people i stayed with if I have the opportunity to do another workshop with Monica. Mon is not only a talented artist but her culinary expertise was to die for as well. I truly recommend her workshops to everyone. regards Lyn b
I initially was timid but you changed all that, no sleep Saturday night, my mind was inspired and constantly creating my second canvas to be completed Sunday. Which I am totally proud of. The food was truly scrumptious and don't forget to pass on the names of the music you played . Many thanks for a great weekend and meeting other interesting/talented ladies.
Cheers
Debby
WHAT FUN WE ALL HAD! Our small group of 6 enabled Monika to devote her time to our individual needs. The encouragement offered created such enthusiasm that it really wasn't long before our creative juices were flowing!
In our class we were taught the technique of Ghost painting, it was a fascinating process and very cathartic which certainly opened our eyes. We all created something which was really beautiful in its own right. Stunning in fact! I love my piece and it hangs proudly in my home for all to see. I have also had many compliments! Yahoo :)
On a personal note, Monika showed great patience, always offering positive words when some of us hit the artists 'block'. The conversation flowed and Monika was always able to offer a healthy dose nurturing with honest reality checks! There were lots of giggles and a few tears as we learnt to 'let go'. A wonderful relaxing weekend, producing two pieces which I'm very proud of.
Thank you Monika, it was sheer joy.!
Oooohhhh and the food... did l mention the food? Great relaxed lunches with delicious homemade goodies. Fantastique!